With peak water at our doorstep and changing rainfall patterns from climate change and an ever growing population, we are going to need to be more creative with our water usage and watershed stewardship. One part of the puzzle is to find more water, obviously. This concept is remarkably simple and incredibly inspiring! The system uses sea water to cool and humidify the air and sunlight distills the water for use!

As long as the plastic can be recycled using renewable energy or durable bioplastics are used, this could really help us re green our coastal desert or semi-arid regions!

For more info visit http://www.seawatergreenhouse.com




Update: This article talks about how this concept is being combined with CSP (concentrated solar power).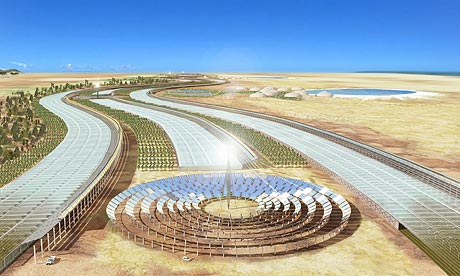 "Both technologies work extremely well in hot, dry desert locations – CSP produces a lot of waste heat and we'd be able to use that to evaporate more seawater from the greenhouse," he said. "And CSP needs a supply of clean, demineralised water in order for the [electricity generating] turbines to function and to keep the mirrors at peak output. It just so happens the seawater greenhouse produces large quantities of this."

"the greenhouse produces more than five times the fresh water needed to water the plants inside so, in addition to producing water to clean the CSP mirrors, some of it can be released into the local environment. This can create a local microclimate just outside the greenhouses for hardier plants such as jatropha, an energy crop that can be turned into biofuel."
My opinion is that this tech is too expensive - money and resources. ~$110 million for 60 acres. Maybe they just need to see
Geoff Lawton's greening the desert video
to see how this can be done with permaculture using nature as the technology and relying on rainfall and swales instead.